Agribild® Plus
Benefits of Agribild® Plus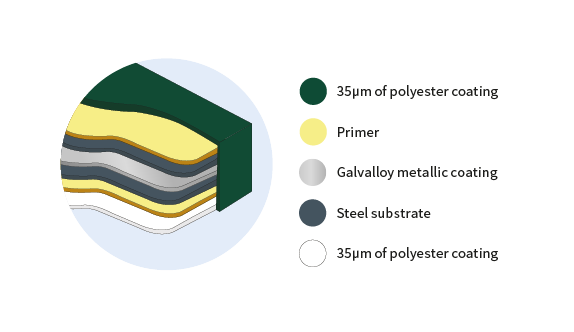 Benefits of Agribild® Plus
Highest protective metal sheeting on the market
35µm of polyester coating inside and out
Factory to farmer guarantee
Easy to install
Cut edge protection – supplied with a Galvalloy® metallic coating
CE Mark approved
Crest Certification
Complete technical support
Back by almost 90 years' experience
All orders MTO
Sinusoidal Profile (10/3)

Sinusoidal Profile (10/3)
This traditional corrugated profile is available in a 762mm cover width and is ideal for spaced and curved roofing.
Sinusoidal Profile (13.5/3)

Sinusoidal Profile (13.5/3)
This wider corrugated profile has a 990mm cover width for maximum build efficiency.
Trapezoidal Profile (R32)

Trapezoidal Profile (R32)
The trapezoidal, or box-like profile, R32 is available in a 960mm cover width which provides excellent build efficiency, with clean, sharp profile lines.
Ventilated Sheets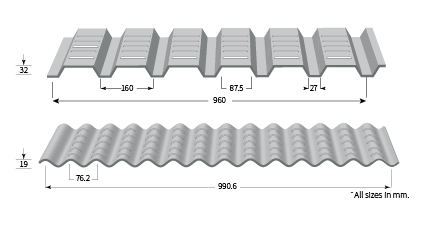 Ventilated Sheets
Condensation occurs when humid air inside a building comes into contact with a cold internal surface such as the internal face of an un-insulated profiled metal roof. The cooled air releases its water vapour in the form of condensation. The amount of condensation formed can depend on the building usage, the amount of natural or other ventilation and roof slope. Condensation can be reduced by the use of natural ventilation provided by eave, ridge and wall openings. Euronit Agrivent Plus ventilated sheeting is ideally suited to help control condensation by providing optimum airflow without loss of structural integrity. It is available in two profiles, C32 and 13.5/3.
Accessory Range
Euronit also supply a full, comprehensive range of the highest quality farm building accessories, including flashings, rooflights and more to allow both the farmer and fabricator a complete farm building solution.
Technical information
Cladding and roofing sheets should be separated from timber purlins by using a D.P.C. type barrier. Avoid prolonged direct sheet contact with aggressive chemicals such as silage, slurry, fertilisers, etc. If the coating of Agribild® Plus is damaged and the metal substrate is visible, apply touch up paint to the exposed metal by "artist" brush method.
Buildings that are subject to the accumulation of salt spray need special treatment, particularly those less than 2km from the sea, where all cut edges of exposed Euronit Agribild® Plus roofing sheets should be coated with touch-up paint. In addition those areas of sheeting not exposed to the washing activity of rainwater (e.g. under eaves), should be washed regularly with fresh water to prevent the accumulation of salt spray.
In extreme marine conditions Euronit Agribild® Plus may not be recommended. Avoid sheet contact with water run-off from copper, lead and related alloys.
To ensure that you get the most from your Euronit metal sheets we list below some basic recommendations for handling materials and fixings on site.
Always store sheets under cover and away from open doorways.
When hoisting sheets onto a roof make sure the sheets are protected. Always use ropes, not chains.
Take care not to store sheets where people will walk on them. Always use crawling boards when laying and fixing sheets.
Take care not to drag sheets off a pile. Remove them by turning them off the stack.
Always use a hand shears or mechanical nibbler to cut sheets. We recommend you do not use a cutter or angle grinder as these only burn the coating but leave diminished galvanised protection for steel and rust will follow very quickly.
Always remove drilling swarf immediately.
Need help?
Get in touch for expert advice, technical support, pricing information or to request a FREE product sample.
More information?
Click below to find out everything you need to know about the Euronit range of metal and fibre cement products.