Colorgalv®
Benefits of ColorGalv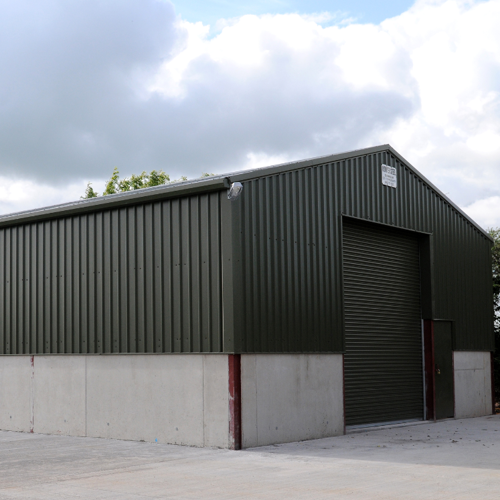 Benefits of ColorGalv
Cost effective metal sheeting
Suitable for low humidity farm buildings or general storage
Easy to install
Rust resistant
Vented sheets for condensation control available
Offered in two profiles, R32 and 13.5/3
Available in two colours, Slate Blue and Dark Green
Complete technical support
Fully recyclable
80 year's experience
All orders MTO
Sinusoidal Profile 13.5/3

Sinusoidal Profile 13.5/3
This corrugated profile has a 990mm cover width for maximum build efficiency.
Trapezoidal Profile R32

Trapezoidal Profile R32
The trapezoidal, or box-like profile, R32 is available in a 960mm cover width which provides excellent build efficiency, with clean, sharp profile lines.
Ventilated Sheets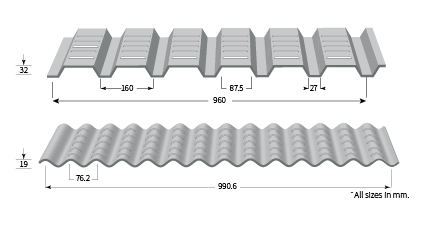 Ventilated Sheets
Condensation occurs when humid air inside a building comes into contact with a cold internal surface such as the internal face of an un-insulated profiled metal roof. The cooled air releases its water vapour in the form of condensation. The amount of condensation formed can depend on the building usage, the amount of natural or other ventilation and roof slope. Condensation can be reduced by the use of natural ventilation provided by eave, ridge and wall openings. Euronit Colorvent sheeting is ideally suited to help control condensation by providing optimum airflow without loss of structural integrity. It is available in the same two colours and profiles, C32 and 13.5/3.
Accessory Range
Euronit also supply a full, comprehensive range of the highest quality farm building accessories, including flashings, rooflights and more to allow both the farmer and fabricator a complete farm building solution.
Need help?
Get in touch for expert advice, technical support, pricing information or to request a FREE product sample.
More information?
Click below to find out everything you need to know about the Euronit range of metal and fibre cement products.